HAGOROMO FULLTOUCH COLOR CHALK [20 PCS/16 COLORS]/1 BOX - chalkpastel
- Product
Gyeonggi-do -
South Korea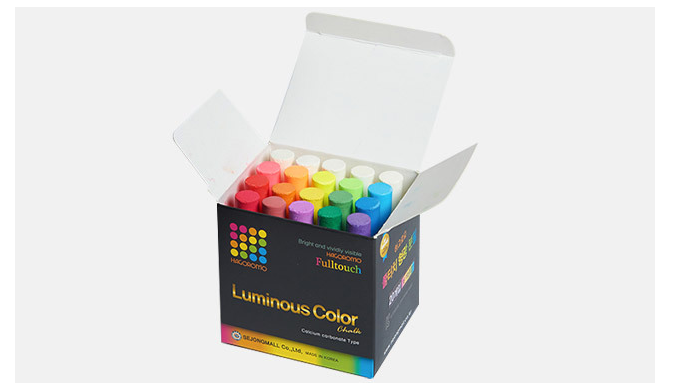 ■ It is made out of the finest calcium carbonate, which the particles are heavier normal chalks. When erased, due to its heavy particles, the chalk dust does not float in the air but settle down to the ground, causing no harm to human body and respiratory system that may be effected by chalk dust.
■ It is light and writes very smoothly with c
Description of the Product
■ It is made out of the finest calcium carbonate, which the particles are heavier normal chalks. When erased, due to its heavy particles, the chalk dust does not float in the air but settle down to the ground, causing no harm to human body and respiratory system that may be effected by chalk dust.
■ It is light and writes very smoothly with clear color and great visibility.
■ The surface of the chalk is coated so it does not leave any chalk dust on hands.
■ It is highly dense due to special compression molding and thermal treatment, making it hard and unbreakable. As the chalk does not break easily, it is significantly economical compared to other normal chalks.
■ When packed, chalks are inserted into Styrofoam slots one by one to avoid damages and breakage.
■ Obtained CE Mark and KC Mark (Korea Certificate).

▶ 1 BOX of 20 pcs of chalk which includes 16 colors of chalks: White, Red, Scarlet, Orange, Yellow, Yellow Green, Green, Blue, Violet, Brown, Luminous Pink, Luminous Orange, Luminous Yellow, Luminous Yellow Green, Luminous Blue, Luminous Violet.
▶ As it includes all the colors of HAGOROMO Fulltouch Color Chalk and Luminous Color Chalk, it is a perfect choice for people who want to try out all the colors of HAGOROMO.
▶ There are 5 pcs of white chalk in 1 BOX.
▶ 1 BOX package consists of 20 pcs of chalk and 1 LARGE BOX(CARTON) consists of 45 BOXES.
Price of the Product
Price not indicated
Category of the Product