Fulltouch Luminous Color Chalk [5 pcs/5 colors]/1 BOX
- Product
Gyeonggi-do -
South Korea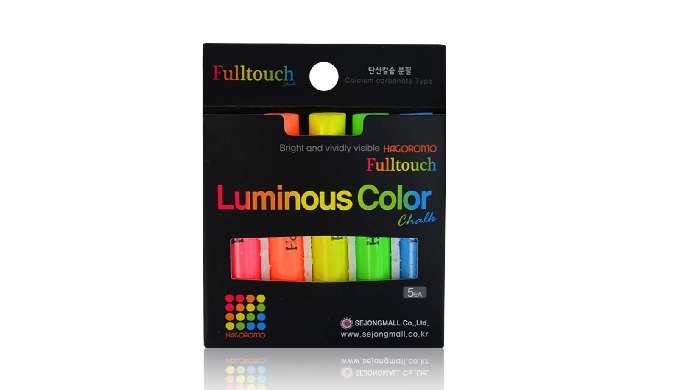 ▶ 1 BOX of 5 pcs of luminous color chalk which consists of the most popular colors of HAGOROMO Fulltouch Luminous Color Chalk.
▶ Colors are as follows: Luminous Pink, Luminous Orange, Luminous Yellow, Luminous Yellow Green, Luminous Blue.
▶ This product was selected as an excellent product in SISO FAIR 2016 and won the KBIZ Korea Federa
Description of the Product
▶ 1 BOX of 5 pcs of luminous color chalk which consists of the most popular colors of HAGOROMO Fulltouch Luminous Color Chalk.
▶ Colors are as follows: Luminous Pink, Luminous Orange, Luminous Yellow, Luminous Yellow Green, Luminous Blue.
▶ This product was selected as an excellent product in SISO FAIR 2016 and won the KBIZ Korea Federation of Small and Medium Business Chairman Prize.
▶ 1 BOX package consists of 5 pcs of chalk and 1 MIDDLE BOX consists of 20 BOXES.
1 LARGE BOX(CARTON) consists of 6 MIDDLE BOXES.
Price of the Product
Price not indicated
Characteristics of the Product
Category of the Product