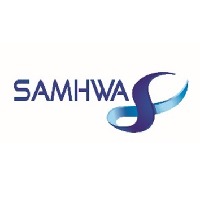 SamHwa Co., Ltd.
Contact - SamHwa Co., Ltd.
66-1 Gasan-ro, Hallim-myeon,
Gimhae-si 50849
South Korea
Send a message - SamHwa Co., Ltd.
Legal information - SamHwa Co., Ltd.
| | |
| --- | --- |
| Nature | Head Office |
| Year established | 2016 |
| Describe your Company and attract Business opportunities | |
| Corporate capital | 400,000 USD |
| Co.Registration No | 277-81-00424 |
| No employees | 20-49 Employees |
| Kompass ID? | KR123547 |
| Kompass member for | New |
| Membership | Booster |
Presentation - SamHwa Co., Ltd.
#Keyword
A/C compressor, Automobile A/C, A/C compressor for car, A/C compressor piston, Automobile parts

#Company Introduction
SamHwa(Former KC) manufactures all products related to Automotive A/C compressor, ranging from core components of Automotive A/C compressors to finished products, equipping piston line, compressor components manufacturing line and automotive A/C compressor assembling line.
The products manufactured by SamHwa(Former KC Co., Ltd.) which are recognized as their excellent quality in the car market, have been provided for worldwide prominent carmakers including Delphi, Visteon and Valeo. SamHwa(Former KC Co., Ltd.) manufactures highly customer-satisfied products, Coping with the rapid change of world market through our oversea business network in U.S.A, Germany and China and have received much praise from Aftermarket in U.S.A , Europe and Asia.
Our products are carried out three levels quality management tests consisting of basic performance tests including Pump test, Bleed test and dB test; Vacuum test; and Pressure-resistance and leakage test. Recently, SamHwa (Former KC) introduced the latest equipments for leakage test and durability test and has upgraded the quality management capability.

#Product
1) FS 10 Compressor | air compressor types
2) R 4 Compressor | air compressor
3) KF 15 Compressor | compressor types
4) Hollow Piston | compressor efficiency

# Site
https://www.samhwatech.net
Company catalogues - SamHwa Co., Ltd.

Samhwa_Company 1 (English)
19 pages

Samhwa_Company 2 (English)
14 pages
General Information - SamHwa Co., Ltd.
Import area
Asia-Pacific
China
Export area
Asia-Pacific, North America, West. Europe
China, United States, Italy
Ms. Myeongju Park
Deputy Manager
Location - SamHwa Co., Ltd.
Key figures - SamHwa Co., Ltd.
Activities - SamHwa Co., Ltd.
Producer
Distributor
Service provider
Main activities within the Kompass classification
Secondary activities within the Kompass classification