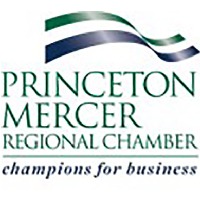 Princeton Mercer Regional Chamber
Contact - Princeton Mercer Regional Chamber
600 Alexander Road, Suite 3-2
Princeton 08542
United States
Send a message - Princeton Mercer Regional Chamber
Legal information - Princeton Mercer Regional Chamber
| | |
| --- | --- |
| Nature | Head Office |
| Year established | |
| Describe your Company and attract Business opportunities (NAI12) | Business Associations (813910) |
| No employees | 0-9 Employees |
| Kompass ID? | US950314 |
| Kompass member for | + 1 years |
| Membership | Booster |
Presentation - Princeton Mercer Regional Chamber
VISION STATEMENT
The Princeton Mercer Regional Chamber will be viewed by our Members as indispensable to their success; acknowledged by civic leaders, government officials and the media as the authoritative voice of the Princeton Area business community; and recognized by the public as an effective catalyst for improving the quality of life for those who visit, work, and live in the greater Princeton Area.
MISSION
The Mission of the Princeton Mercer Regional Chamber is to:
Serve our Members – with opportunities to meet and do business with other Members and with resources to enhance their success
Speak for Business – with a collective voice on public policy issues affecting business and our communities.
Promote an environment for business growth – by encouraging economic development efforts that strengthen the Princeton Area's reputation and by enhancing the quality of life in the communities we serve.
As an organization we are committed to excellence in all aspects of our operations. Led by the Chamber's Board of community leaders with support from a professional staff, we will ensure that the skills, talents and interests of our Members are effectively utilized and supported and that everyone's experience with the Chamber is positive and productive.
CORE VALUES
We value our clients. We strive each day to earn the respect of our members and to meet their needs.
We value our staff. They are our most important resource. We encourage, reward and motivate them every day.
We value integrity. We adhere to the highest of ethical standards.
We value diversity. We respect the variety of people, businesses and ideas in our community and consider this diversity to be an advantage.
We value both innovation and tradition. As a proactive and forward-thinking organization, we create meaningful programs that add value to meet the needs of an ever-changing world. We embrace the possibilities of the future while preserving our region's rich history.
We value our Board of Directors. They lead us with their integrity, their knowledge and their excellence.
Company catalogues - Princeton Mercer Regional Chamber
News - Princeton Mercer Regional Chamber
Participate in an event
https://princetonnjcoc.wliinc27.com/events/Global-Business-Summit-873/details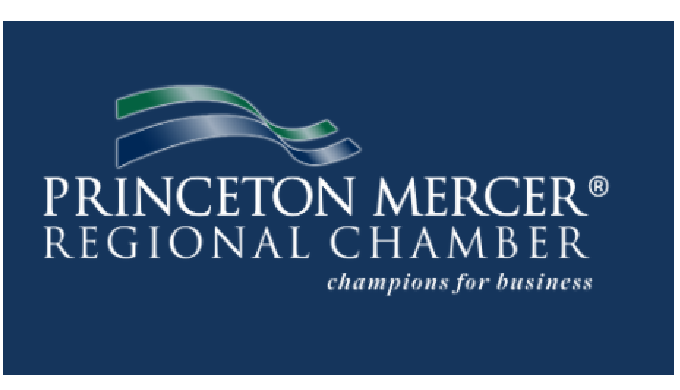 Date: 17 July, 2020 2:00 PM
End: 17 July, 2020 3:30 PM
Location: virtual event
GLOBAL BUSINESS SUMMIT
Friday, July 17, 2020 10:00 AM - 11:30 AM EST
DoubleTree by Hilton of Princeton
4355 Route One South at Ridge Road
Princeton, NJ 08540
Join the Global Business Virtual Summit and learn how your business can adjust to the new normal in today's global economy.
The virtual event includes:
Keynote Speaker Presentation
Case Study Moderated Chat
Networking Breakout Rooms
Keynote Speaker:
Kimberlee S. Phelan, CPA, MBA, CGMA,
Partner, WithumSmith+Brown
International Services Practice Leader
Case Study Discussion Speaker
: Suzanne Moyer,
Co-founder & VP Nevo Technologies
In addition to the virtual presentations and interactive networking during the event, we encourage attendees to provide their LinkedIn profile links during registration. To facilitate connections in today's virtual world, any attendees that provide their profile will be sent the full list of those attendees that have opted in as well.
Pricing
Early Bird Rate - VALID THROUGH JUNE 30THJun 30, 2020 $25.00
Ticket - Member PricingJul 17, 2020 $30.00
Ticket - Non-Member PricingJul 17, 2020 $40.00
Title Sponsor - Industry Exclusive!Jul 17, 2020 $2,000.00
Supporting Sponsor - Limited # Available!Jul 17, 2020 $1,500.00
Breakfast Sponsor - Limited # Available!Jul 17, 2020 $1,000.00
Patron SponsorJul 17, 2020 $500.00
REGISTER
Organize a webinar
Your Online Chamber Toolkit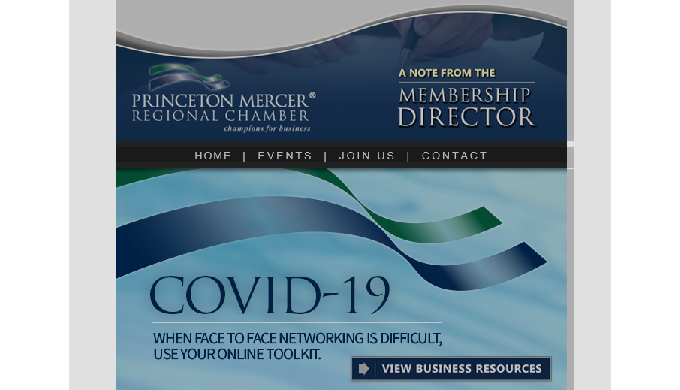 Date: 22 March, 2020 4:00 AM
Contact details Christine@princetonmercer.org
Dear Chamber Members,
What should you do when face to face networking is difficult? Stay in touch with your fellow Chamber Members and promote your businesses virtually! Below are some helpful tips on how to best utilize the Chamber website and online resources.
Visit the Member Directory - Start a new relationship! Are there Members in our directory that could be a good connection for you? Now is a great time to make an introduction.
Utilize Member News - This is a great way to gain visibility for your organization, get your message out and learn more about your fellow Members!

To upload Member News, click here. The Chamber randomly selects Member News articles to be featured on our weekly e-newsletter.

New Facebook Group Page - We just launched our Facebook Business Group to stay in touch and network virtually . Click here to join the group!
Video Meet & Greets - Using video is a great way to create visibility for you and your business in today's socially driven network. Members of the Princeton Mercer Regional Chamber have the ability to upload videos to the Chamber's YourTownTube page. For information on getting a video produced, please check out our video production members here.
If you are interested in these benefits, but are not yet a Member, please contact
Christine@princetonmercer.org
. I look forward to seeing you and your business on the Chamber's online forums!
Sincerely,
Christine Curnan
Vice President
Membership & Business Development
Location - Princeton Mercer Regional Chamber
Opening hours - Princeton Mercer Regional Chamber
Activities - Princeton Mercer Regional Chamber
Producer
Distributor
Service provider
Other classifications (for some countries)
NAICS (US 2012) : Business Associations (813910)
SIC (US 1987) : Amusement and Recreation Services, Not Elsewhere Classified (7999)