New product
Winmate Enterprise-Grade Tablet Computers — Powerful, Rugged, Versatile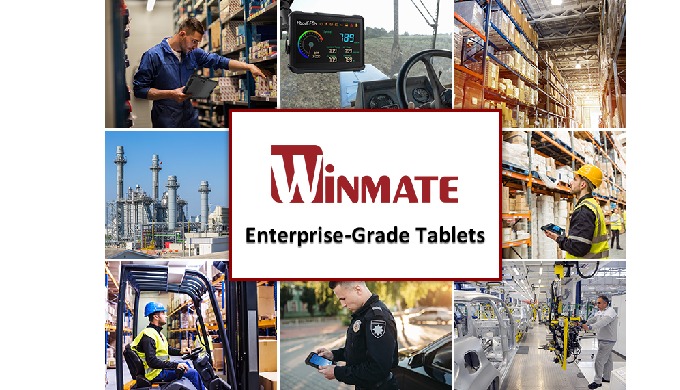 Start date: 10 May, 2022 4:00 AM
End date: 11 April, 2025 3:28 AM
Winmate Enterprise-Grade Tablet Computers — Powerful, Rugged, Versatile
Mobile devices are holding up in the enterprise environment, but consumer-grade models are easily broken and unreliable to handle all-day fieldwork. Winmate offers rugged tablet computers engineered to withstand harsh work environments and delivers reliable performance with a variety of OS choices and data capture
The global tablet market has been growing over the last few years. Enterprises are rapidly adopting mobility solutions to improve business operations. With enterprise-grade tablets, workers stay connected all day long. They could access enterprise systems for updates and communicate across the network.
Yet, in harsh conditions like a warehouse, field services, or manufacturing facility, consumer devices may not be the best choice because they are too fragile for use in industrial environments where dust, rain, extreme cold, and outdoor work are expected. Drop that tablet on the ground several times a day, and it's either headed for repair or replacement — which means downtime and cost.Data security is another concern when using a consumer-grade tablet.When choosing the right device, organizations should consider the Total Cost of Ownership (TCO) and the long-term cost of tablets.
When many industries are adopting mobile devices for workforces, a critical decision is whether to choose rugged enterprise-grade hardware, or consumer-grade technology remains essential. When selecting the right device, organizations should consider the Total Cost of Ownership (TCO) and the long-term cost of tablets.
Some Tips on Choosing Enterprise-Grade Tablet
Choosing a tablet for enterprise use
— Use a device that is designed for your work environment. When selecting the right solution, only compare specs that matter to you. Typically, for industrial applications, several features matter — IP rating, drop and vibration resistance, battery life longevity, and data capture capabilities. But do not be mislead by the numbers. For example, a higher IP rating does not necessarily mean that the device is better for performing tasks in your application. Generally, the higher is the score, the better the protection—the choice of protection level, IP65 or IP67, depends on the needs of your application.
Consider available accessories for your application
—Accessories can add flexibility and utility to your tablet and handheld. Make sure you consider options like a charging dock, carry-case, stylus, and vehicle mount solution. Keep in mind the end-user application scenario. Think of whether this tablet will be installed in the vehicle and occasionally used for data collection, or the worker is going to carry the device around the site all day long. Then narrow down your choices by looking at available add-ons for the devices you are considering.
Think of how to manage tablets deployed in the field
—Next, it is crucial to consider the maintenance plan for all the devices deployed within the organization. You can consider SOTIMobicontrol or any other mobile device management (MDM) solution that suits your business needs. Most MDM solutions allow managing the policies and features of data and apps, such as encryption, PIN enforcement, and remote wipe.IT should be aware of which MDM product supports its organization's fleet of tablets.
M900 Series
A compact, rugged tablet that can survive any environment and gets real work done
Stand up to real-world challenges with the
Winmate M900 Series
, rugged Windows tablets designed for work in the field. Now your mobile workforces can stay connected anytime, anywhere, and complete tasks such as equipment inspection and maintenance even in a harsh environment. Every inch and detail of the
M900 Series
engineered to optimize the efficiency of operations - data collection and real-time analysis, inventory control, and status reporting.
About Winmate
Winmate Inc. is a rugged computing and embedded solutions provider for industries operating in some of the most challenging environments. Founded in 1996 in Taipei, Taiwan, where its headquarters, research, and development facility, and production lines are located. Today, the company has offices and service centers worldwide. Winmate develops rugged industrial-grade computing solutions that advance the Industrial Internet-of-Things (IoT), including industrial display and panel PC, HMI, embedded systems, IoT gateways, rugged tablets and handheld devices for industries ranging from transportation and logistics to marine and military, railway, oil and gas, smart grid, healthcare, and field services. Winmate also provides professional services in customizing products and project management to create a unique solution for specific customer needs.
For more information, visit
www.winmate.com
.