Elesa (UK) Ltd
Contact - Elesa (UK) Ltd
26 Moorlands Estate
Metheringham
Lincoln LN4 3HX
United Kingdom
Send a message - Elesa (UK) Ltd
Legal information - Elesa (UK) Ltd
| | |
| --- | --- |
| Nature | Secondary establishment : Branch |
| Year established | 1990 |
| Legal form | Private Limited |
| Describe your Company and attract Business opportunities | |
| Registration no | 00577223 |
| No employees | 10-19 Employees |
| Kompass ID? | GB80044894 |
| Kompass member for | + 7 years |
| Membership | Booster International |
Presentation - Elesa (UK) Ltd
Elesa (UK) Ltd
is a branch office of the Elesa Spa group, international manufacturer of plastic and metal standard machine parts for the mechanical engineering industry for over 75 years. Elesa products express a quality of design and ergonomic research with recognition of its brands as guarantees of quality and reliability. Continuous attention to clients' needs and a rapid service have made Elesa a reference point for designers and builders. More than 45,000 product codes, 180 patents and 42 international design awards produced with systems certified to ISO 9001 and ISO1401 are supported by localised stock and technical support.
Elesa Standards cover industrial components including, handwheels, handles, levers, knobs, gears, spring and indexing plungers, levelling feet, locks and latches and hydraulic tank accessories in engineering grade plastics, aluminium, steel and stainless steel. Also a range of light to heavy duty industrial castors, vibration damping elements, conveyor components, rod ends, fork joints and magnets.
Industrial machinery and equipment are well served with the Elesa anti-vibration mounts, ball lock pins, ball transfer units, filler breathers, grip knobs, latch clamps and metal hinges, in addition to oil level indicators, plastic hinges, pneumatic clamps, stainless steel hinges, toggle clamps, tubular handles and wing knobs.
More Information on our Products
Handwheels & Crank Handles
Clamping Knobs
Clamping Levers
Lift & Pull Handles
Revolving Handles
Control Knobs
Position Indicators
Indexing Plungers
Spring Plungers
Levelling Feet
Hinges
Locks & Latches
Filler Breather Caps
Column Level Gauges
Castors & Wheels
Tube Connecting Clamps
Adjustable Feet
Adjustable Handles
Anti Vibration Mounts
Ball Lock Pins
Bridge Handles
Cam Action Levers
Cam Latches
Castors & Wheels
Clamping Handles
Column Level Indicators
Detent Hinges
Digital Position Indicators
Drain & Blanking Plugs
Eye Screws
Flush Handles
Fork Joints
Friction Hinges
Grab Handles
Guide Rails
Hook Clamps
Indexing Handles
Indexing Levers
Levelling feet
Lift Off Hinges
Lobe Knobs
Machine Mounts
Magnets
Modular Roller Tracks
Oil Level Indicators
Quick Release Pins
Recessed Handles
Rod Ends
Safety Hinges
Stainless Steel Hinges
Toggle Clamps
Tubular clamps
Vibration Dampers
Washers
Wing Knobs
Wing Nuts
Company's Videos - Elesa (UK) Ltd
General Information - Elesa (UK) Ltd
Banks
The Royal Bank of Scotland
Export area
Asia-Pacific, Central Asia, Middle East, Africa, Central/East Europe, West. Europe, North America, Central America, South America
Brands - Elesa (UK) Ltd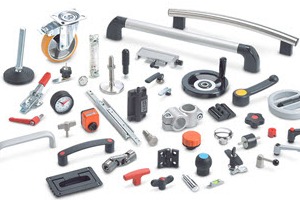 Ganter (Producer, Distributor)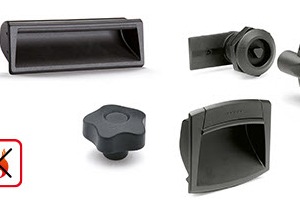 Elesa Self Extinguish (Producer, Distributor)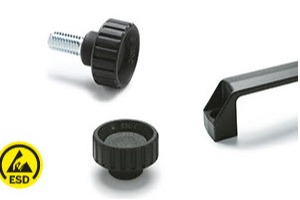 Elesa ESD (Producer, Distributor)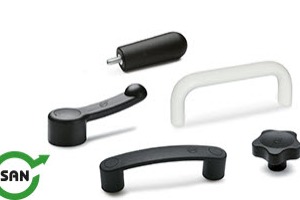 Elesa SAN (Producer, Distributor)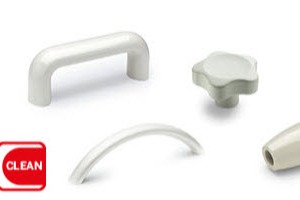 Elesa CLEAN (Producer, Distributor)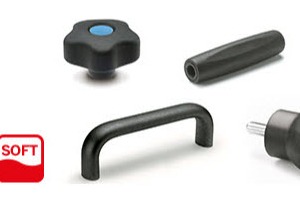 Elesa SOFT (Producer, Distributor)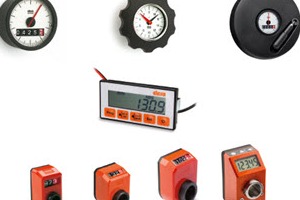 Elesa-Clayton (Producer, Distributor)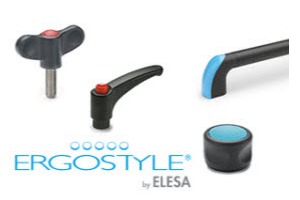 Ergostyle (Producer, Distributor)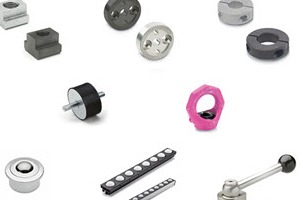 Elesa (Producer, Distributor)
Mr A. Mosca
Director (Director)
Mr R. Griffths
(Works & Production Director)
Mr C. Bertani
Director (Director)
Mr A. Cooke
PURCHASING & PROCUREMENT DEPARTMENT (Purchasing)
Mr A. Bertani
Director (Director)
Mrs. E. Mourao
ADMINISTRATION/FINANCE DEPARTMENT (Accounts)
Mr N.C.J. Pritchett
MD/Chief Operating Officer (Managing Director)
Participation - Elesa (UK) Ltd
News - Elesa (UK) Ltd
New service
Support for the Packaging Industry – Elesa standard components make life easier with new brochure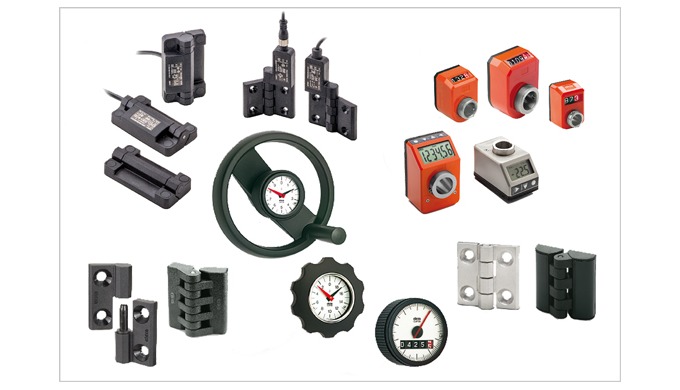 Date: 2 December, 2020 12:00 AM
Packaging industry machines are usually dedicated to a single task, often under high speeds in difficult environmental conditions where ease of handling is a major factor of importance.
Elesa are proud to offer a new brochure dedicated to the packaging industry, which demonstrates a full range of standard components that benefit user experience and are designed to suit the requirements of the wider packaging industry, including bottling and labelling in the food and pharmaceutical sectors. Manoeuvring, clamping and control are functions where standard components serve – even in areas requiring corrosion resistance. This is addressed in their brochure of "Components for Packaging Machines and Equipment" which is available to
download here
.
Packaging machine designers and installation engineers are expected to find the Elesa position indicators and access panel hinges ideal for these applications. Their range covers both analogue dial and digital box indicators including mechanical and electronic variants to make rapid spindle setting and adjustment especially easy.
Elsewhere on packaging lines access safety is often a concern, so rugged hinges and locks are offered along with the FS series hinges which allow power to be cut as a safety measure if inspection covers are opened without proper machine shut down. Other Elesa packaging machinery components include clamping handles – convenient for setting of tensions and locking of settings, also knobs and handwheels, levelling feet and latch clamps as described in their brochure.
It is the Elesa philosophy to provide quality standard components for specialist manufacturers such as those producing packaging machinery. A philosophy reflected in their offering of EHEDG levelling feet and of metal and visually detectable components designed for food and pharmaceutical packaging applications. Elesa's reliable, strong and easy to clean components use high-grade engineering plastics and stainless steels across their range to meet current international standards and performance criteria.
The Elesa packaging range is described in detail and
available online here
.
New product
Elesa announce new wire rope arrival to vibration damper family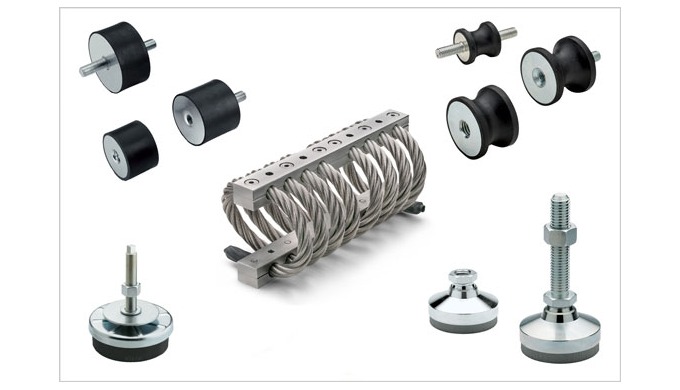 Date: 6 November, 2020 12:00 AM
Elesa are delighted at the new arrival of a
wire rope series
to their otherwise
rubber-based vibration damper family of mounts and buffers
, used throughout industry for isolation of equipment where vibration is a major issue. The new AVC series incorporates AISI 316 stainless steel wound into helical loops where the spring damping function is derived from innate elastic and friction properties of the rope construction. This allows a high range of deformation suitable for use in mounting of gensets, robotic mounts, stabilising platforms e.g. for cameras and liquids. Other applications include mounting of electrical cabinets, HVAC, transport platforms, marine equipment, power systems, pumps, desalination, rail, naval, military, marine oil and research platform equipment.
The
AVC series
may be mounted in horizontal or vertical orientation and as they are manufactured in stainless steel they can be used in a wide range of temperatures and environments. Their high range of deformation in comparison to other materials is coupled with the level of resistance to age and atmospheric conditions we would expect from stainless steel. They are excellent for shock attenuation as they operate with low natural frequencies to give a fast damping effect which is resistant to fatigue and are maintenance free.
Wire rope mounts/isolators in the AVC series offer a very cost effective, long term solution in load capacities from 50N to 3000N without the need for regular maintenance or replacement.
Location - Elesa (UK) Ltd
Opening hours - Elesa (UK) Ltd
Key figures - Elesa (UK) Ltd
Activities - Elesa (UK) Ltd
Producer
Distributor
Service provider
Main activities within the Kompass classification
Secondary activities within the Kompass classification